Ich habe beim heutigen #AskaLibrarian eine ganz einfache, und dennoch unendlich schwere Frage gestellt:
Gibt es Märchen, Neuerzählungen oder Versionen alter Märchen, die feministisch sind?
Hier sind die Antworten:
.@Runnerofmerc A new title by Neil Gaiman, The Sleeper and the Spindle. Recommended by @libraryvoice #AskaLibrarian

— Library Journal (@LibraryJournal) 17. Dezember 2015
On the eve of her wedding, a young queen sets out to rescue a princess from an enchantment. She casts aside her fine wedding clothes, takes her chain mail and her sword and follows her brave dwarf retainers into the tunnels under the mountain towards the sleeping kingdom. This queen will decide her own future – and the princess who needs rescuing is not quite what she seems. Twisting together the familiar and the new, this perfectly delicious, captivating and darkly funny tale shows its creators at the peak of their talents.  goodreads.com
---
@Runnerofmerc maybe FEARLESS GIRLS, WISE WOMEN? https://t.co/8JhpSLIbBN#askalibrarian#ReadItForward

— Norton Library Mktg (@WWNortonLibrary) 17. Dezember 2015
A definitive sourcebook of folktales and fairytales and the first of its kind to feature a variety of multicultural heroines. Dismayed by the predominance of male protagonists in her daughters' books, Kathleen Ragan set out to collect the stories of our forgotten heroines. Gathered from around the world, from regions as diverse as sub-Saharan Africa and Western Europe, from North and South American Indian cultures and New World settlers, from Asia and the Middle East, these 100 folktales celebrate strong female heroines. Fearless Girls, Wise Women, and Beloved Sisters is for all women who are searching to define who they are, to redefine the world and shape their collective sensibility. It is for men who want to know more about what it means to be a woman. It is for our daughters and our sons, so that they can learn to value all kinds of courage, courage in battle and the courage of love. It is for all of us to help build a more just vision of woman. Fearless Girls, Wise Women, and Beloved Sisters breaks new ground by reexamining our notions about heroism. This book will appeal to parents who want to foster positive role models for their children. An invaluable resource of multicultural heroines for any school library. Indiebound.org
---
@Runnerofmerc Margo Lanagan loves to play w/role of women in traditional tales. Great for teens/adults, dark & fascinating #AskaLibrarian

— Hennepin Cty Library (@hclib) 17. Dezember 2015
Tender Morsels is a dark and vivid story, set in two worlds and worrying at the border between them. Liga lives modestly in her own personal heaven, a world given to her in exchange for her earthly life. Her two daughters grow up in this soft place, protected from the violence that once harmed their mother. But the real world cannot be denied forever—magicked men and wild bears break down the borders of Liga's refuge. Now, having known Heaven, how will these three women survive in a world where beauty and brutality lie side by side? goodreads.com
---
Grimm Fairy Tales by Pullman. Bloody Chamber by Carter. #AskaLibrarianhttps://t.co/zcGJvrO0GJ

— Nicole Steeves (@mrsnicolesteeve) 17. Dezember 2015
Pullman's versions of the three stories in this Penguin Special—"The Twelve Huntsmen," "The Buffalo-Hide Boots," and "The Golden Key"—are not to be found anywhere else and are accompanied by personal commentary about their sources, history, and everlasting appeal. They're among Pullman's favorite Grimm tales, and they supplement the fifty he's selected and retold in the upcoming volume Fairy Tales from the Brothers Grimm—two of which, "The Goose Girl at the Spring" and "The Three Snake Leaves," appear here as bonus stories alongside the three feature stories. goodreads.com
---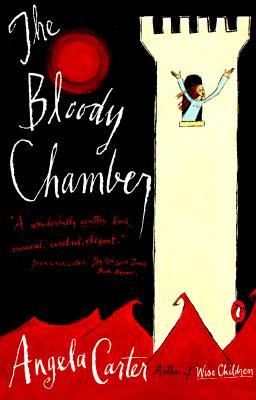 From familiar fairy tales and legends – Red Riding Hood, Bluebeard, Puss-in-Boots, Beauty and the Beast, vampires, werewolves – Angela Carter has created an absorbing collection of dark, sensual, fantastic stories.
The Bloody Chamber —
The Courtship of Mr. Lyon —
The Tiger's Bride —
Puss-in-Boots —
The Erl-King —
The Snow Child —
The Lady of the House of Love —
The Werewolf …more
---
@Runnerofmerc Uprooted by Novik is a wonderful female centered fantasy/folk tale, tho not a classic retelling #AskALibrarian
— Sacramento Library (@saclib) 17. Dezember 2015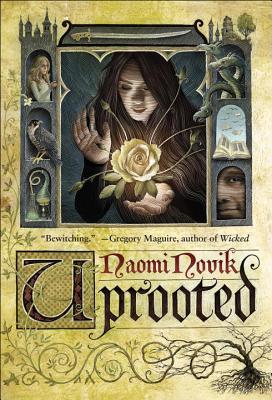 "Our Dragon doesn't eat the girls he takes, no matter what stories they tell outside our valley. We hear them sometimes, from travelers passing through. They talk as though we were doing human sacrifice, and he were a real dragon. Of course that's not true: he may be a wizard and immortal, but he's still a man, and our fathers would band together and kill him if he wanted to eat one of us every ten years. He protects us against the Wood, and we're grateful, but not that grateful."
Agnieszka loves her valley home, her quiet village, the forests and the bright shining river. But the corrupted Wood stands on the border, full of malevolent power, and its shadow lies over her life.
Her people rely on the cold, driven wizard known only as the Dragon to keep its powers at bay. But he demands a terrible price for his help: one young woman handed over to serve him for ten years, a fate almost as terrible as falling to the Wood.
The next choosing is fast approaching, and Agnieszka is afraid. She knows—everyone knows—that the Dragon will take Kasia: beautiful, graceful, brave Kasia, all the things Agnieszka isn't, and her dearest friend in the world. And there is no way to save her.
But Agnieszka fears the wrong things. For when the Dragon comes, it is not Kasia he will choose. goodreads.com
---
@WWNortonLibrary@Runnerofmerc The Cinder Series, by Marissa Meyer is a fun young adult Sci-Fi retelling. #askalibrarian#readitforward

— Carol Stream Library (@CarolStreamPL) 17. Dezember 2015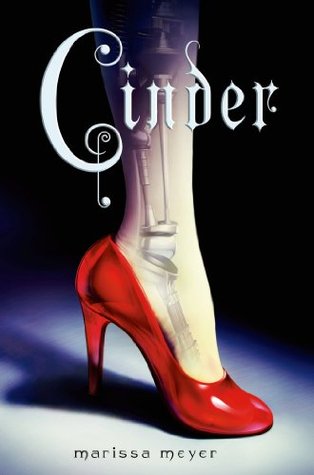 Humans and androids crowd the raucous streets of New Beijing. A deadly plague ravages the population. From space, a ruthless lunar people watch, waiting to make their move. No one knows that Earth's fate hinges on one girl.
Cinder, a gifted mechanic, is a cyborg. She's a second-class citizen with a mysterious past, reviled by her stepmother and blamed for her stepsister's illness. But when her life becomes intertwined with the handsome Prince Kai's, she suddenly finds herself at the center of an intergalactic struggle, and a forbidden attraction. Caught between duty and freedom, loyalty and betrayal, she must uncover secrets about her past in order to protect her world's future. goodreads.com
---
Kennt ihr eins der Bücher? Achtet ihr auf starke weibliche Charakter, oder lest ihr gerne über Mary Sues?
//platform.twitter.com/widgets.js